Killing someone on the written page is almost always fun. But like so many activities, it's rarely done as skillfully by amateurs as by professionals. Which is why it's important to learn from the masters.
It's one of the reasons why I attended this year's Book Passage Mystery Writers Conference in Corte Madera, CA. I'd never heard of the conference until I read about it in Hallie Ephron's excellent how-to book, Writing and Selling Your Mystery Novel. And I'd never heard of Corte Madera either. How could an independent bookstore in a small corner of Marin County host a conference that attracts mystery writers from near and far?
I soon learned what can be accomplished if you're passionate about crime novels and compassionate toward those of us hoping to launch careers writing them. Tucked away behind rows and rows of smartly organized books of all kinds, and a staff as helpful as they are knowledgeable, were two meeting rooms big enough to hold scores of participants and an illustrious faculty. (I didn't count the number of participants but there were 27 faculty members, resulting in a teacher/student ratio so high that it was impossible not to interact with them one-on-one at some point during the four-day conference.) My first impression upon arriving at the bookstore reminded me of the Indiana Jones Adventure at Disneyland, where visitors queue up outside a room that feels so small that it makes you wonder if you've just signed up for an adventure in claustrophobia. And then the doors to the ride open, and you just know that you're on the threshold of an unforgettable thrill ride.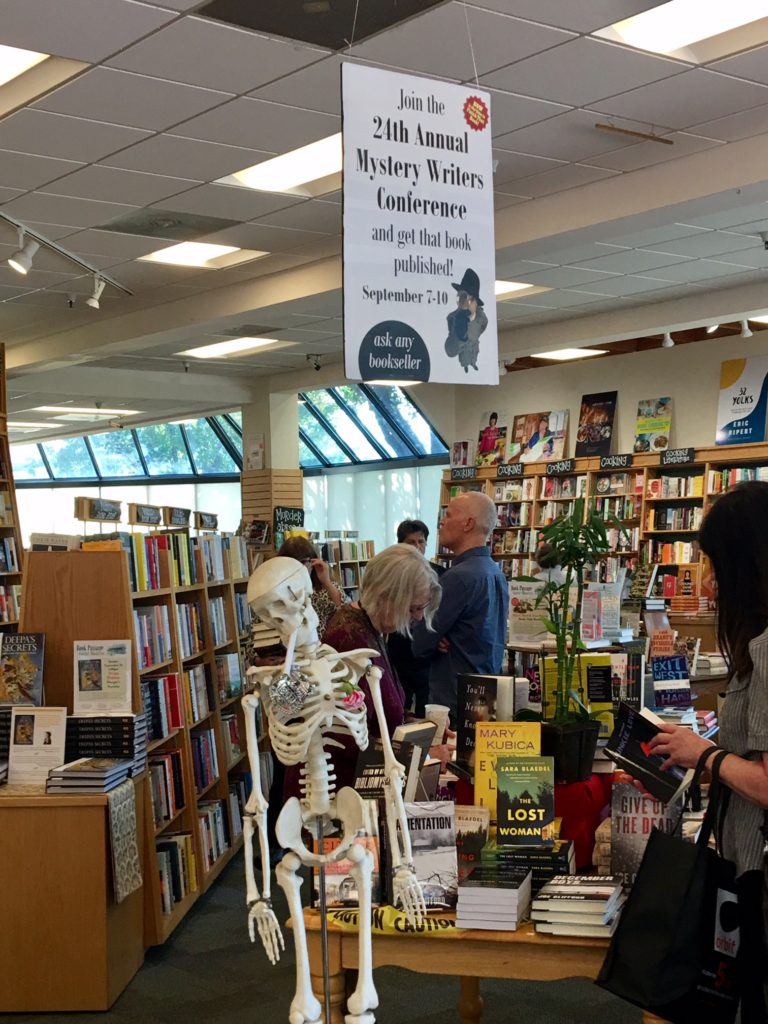 And so it went for the next three days. Just when I started to wonder how something might turn out, I was led to a little pot of gold. Here are just a few highlights of my conference experience:
Dinner with bestselling author and fellow Francophile, Cara Black, on opening night during which we compared notes on writing mysteries set in France. Very humbling! Cara has written 17 novels in the Aimée Leduc series and won all sorts of honors from the French government for her accomplishments.
Chatting over wine and cheese with Sara Blaedel, one of Denmark's most successful crime writers, about the way the three-act structure she defines gives her the freedom to make discoveries during the writing process.
Being high-fived by Vilaska Nguyen, a San Francisco Public Defender, for getting my novel to the point where it's ready to be pitched to literary agents. At a panel discussion of legal and forensics experts, Vilaska demonstrated the three fundamentals of cross-examination on a poor, unsuspecting audience member with such panache that he left me crying with laughter.
Taking a coffee break with author and editor Joe Clifford, who had an uncanny ability to fill my head with absurd little earbugs, like: Did you know that Popeye could have gotten as much iron from watermelon as from spinach? Who knew?
Practicing pitching my novel to bestselling author Mary Kubica, who warned me that she wasn't sufficiently negative to be a decent pitch partner. But she gave me the best possible pitch experience for just that reason. Her patience and encouragement put me at ease and her feedback was invaluable.
Challenging award-winning author Tony Broadbent to write his next novel about the zombification of Shakespeare's Juliet after she drank Friar Laurence's sleeping potion. But only after learning from medical expert and crime author D.P. Lyle that it's possible to zombify someone temporarily, though not without the risk of permanent damage.
Meeting the utterly charming crime author William C. Gordon, who sponsored the scholarship I won to the conference, and asking him to sign a copy of his latest novel as: To my best friend Joyce, from "the money," Willie Gordon. Later, when I peeked at what he had written, I discovered that he had obliged me.
Enjoying champagne and brownies with FBI agent and author George Fong as he described the most extraordinarily brutal killing spree he investigated during his 27-year FBI career.
Being transfixed by the legendary Isabel Allende as she spoke to the audience about her life, her work, and her new lover!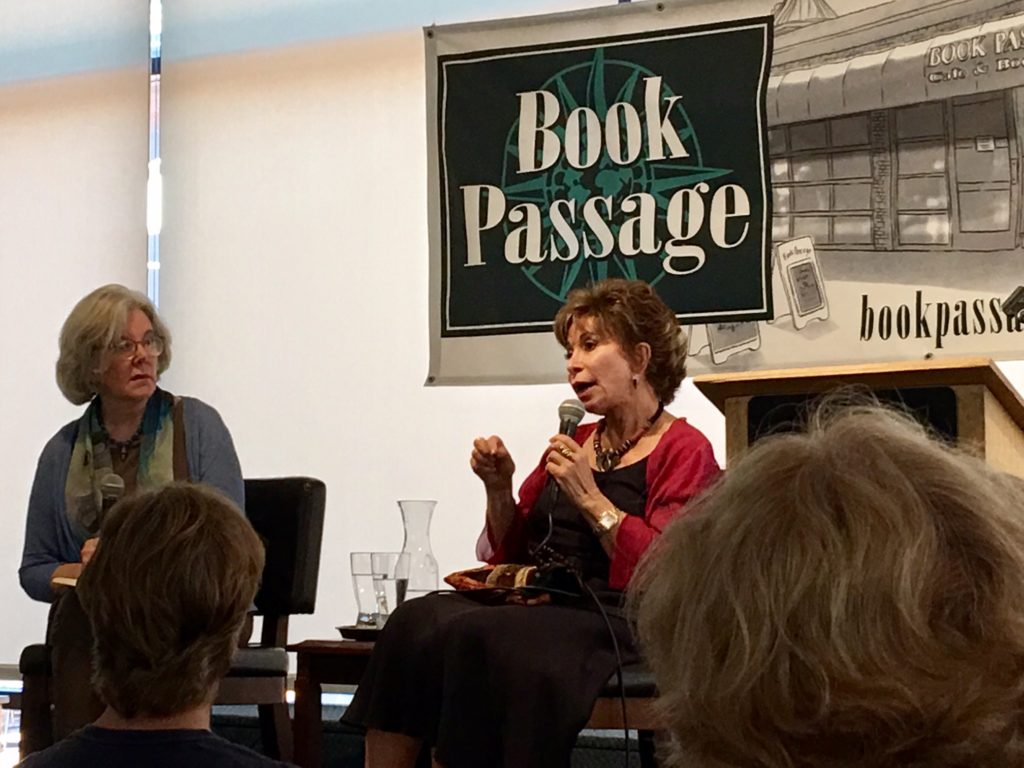 If it feels like I'm dropping names, just know that the intimacy of the Book Passage Mystery Writers Conference makes it impossible not to rub elbows with the authors you admire. What I neglected to mention is that at least 30 events (classes, panel discussions, writing intensives, etc.) were held over the four days, not counting the private consultations we could schedule with faculty members and meals we all shared throughout the conference.
I'd like to wind down this post with a story that has little to do with the conference but has everything to do with the element of surprise that's critical to a good mystery, and echoes the moments of synchronicity that I felt throughout my four days at Book Passage.
At the end of a staggeringly long first day at Book Passage (my flight from Seattle to San Francisco had been delayed by hours, so I arrived somewhat zombified myself), I requested a Lyft ride back to my hotel. Lately I'd been thinking a lot about Sam Shepard, playwright, actor, and as many of my female friends agree, "the perfect man." The man who won ten Obie Awards, wrote 44 plays, received the Pulitzer Prize for Drama, and was nominated for an Oscar for his portrayal of Chuck Yeager in The Right Stuff died last month and the world lost a staggering talent. When Geoff my Lyft driver arrived, he asked me what brought me to Corte Madera. I explained how I'm trying to transition to a career as a mystery novelist. And then he told me about his good friend who spent his entire career trying to get out the story he wanted to tell, and died feeling like he never succeeded, though he had achieved a certain degree of celebrity. I wondered who it was but dared not ask since it was clear that Geoff was still mourning the loss of his friend. So instead, I extended my heartfelt condolences. And then Geoff thanked me and said, "Maybe you've heard of him. His name was Sam Shepard."
Meeting Geoff reminded me that if you set your intention, the universe often gives you what you need even if it doesn't match what you think you want. I would have loved to meet Sam Shepard. But the stories about him that inspired me on that Lyft ride could only have been shared by someone with the perspective of a good friend. Going into the Book Passage Mystery Writers Conference, I had hoped to meet a literary agent who would offer me representation right there on the spot. But the people I met and the feedback I received helped me improve my pitch and my chances of finding the right agent for me.
So on that note, I'd like to thank Kathryn Petrocelli, Karen West, and the rest of the amazing team at Book Passage for organizing, coordinating, and in so many other ways, making the 2017 Mystery Writers Conference possible– and making it the terrific experience it was. It's easy to focus on your enjoyment of something and not consider the months and months of intense planning, research, and hard work it took to bring it to life.
Which is an apt metaphor for reading and writing a novel, when you think about it.