For most of my career, I worked in tech on engineering teams. I contributed to some amazing products, many of which you probably use today. And I was fortunate enough to collaborate with some of the most intelligent and dedicated people one could ever dream of working with. I built dream teams. I was given the privilege of helping other leaders build their dream teams. I woke up each morning, sometimes for months on end, looking forward to going to work because of the people I got to work with. And at the end of a 50-, 60-, or 70-hour work week, I was content because the human interaction energized me even if my brain and body were dead beat.
And then I became an emerging novelist. I now crave what I once took for granted. Writing is a solitary endeavor and I'm a bit of a social critter. It's time to build a different kind of dream team.
Part of that undertaking requires me to surround myself with people when most often I'd rather spend my time plotting the next adventure of my protagonist of THE KNITTING DETECTIVE series. But the good news is this: A SCANDAL IN NICE, my manuscript for the first novel in the series, is ready for submission, according to my editor. So now it's time to find representation. And if I have my way, the literary agent that decides to take me on will be the third leg of this three-legged stool. I am nothing if not an optimist.
So, with my editor's assistance, I began my search for a literary agent this week. Here are the websites I trawled to find qualified members of what I intend to be my next dream team…
This website describes itself as "the biggest and best dedicated marketplace for publishing professionals built on the foundation of Publishers Lunch, read by 40,000 industry insiders and considered 'publishing's essential daily read.'" Much of it is also free. You don't need to sign in or sign up unless you want to access certain pages that are available to paying members only. But you can search members (in my case, members who are literary agents), select genres and specialties (in my case, mystery), and enter additional terms to pinpoint who you're looking for. My search yielded 238 results with enough information about each matching member to decide whether a query to that agent has the potential to bear fruit.
Now that's no small task. It requires me to visit each agent's website, read his or her bio, see the titles they've sold, read some of their tweets, get a sense of what they're looking for beyond what they wrote in their marketplace profile or website bio, discover whether they're open to submissions, and decide whether they'll enjoy and really want to get behind the cozy mystery I wrote. It has taken days to winnow down the list. But there's gold in them thar hills. And cross-referencing it with the other sources mentioned below are helping to uncover it.
"This is the official list of agents, editors, and publishers who will be attending PitchFest 2017 at ThrillerFest XII." The agents who attend this event are very clear about what they're looking for. So it's one more way to vet my short list of agents to pursue.
Just to be clear, I didn't think of a cozy mystery as part of the "thriller" category of fiction, but evidently it is. In fact, the über genre, according to Wikipedia, is crime fiction. Within that genre are many subgenres, including detective fiction (about professional or amateur detectives), which is also a subgenre of mystery fiction. Within detective fiction, you'll find the cozy mystery subgenre "in which profanity, sex, and violence are downplayed or treated humorously." Now I know that Wikipedia isn't 100% accurate 100% of the time, but it's often my go-to website when I kick off a research project. And though I still feel an itch to flowchart all the subgenres of crime fiction, it has given me my bearings. My protagonist, Maxime Martin, could be thought of as the immaculately conceived progeny of Miss Marple, though I'm told this description doesn't do him justice because he's a sexy beast. But I certainly don't feel the need to be explicit when I write about his forays into sex and violence. Humor lets me treat them with a light touch.
The takeaway here is: know your genre. And then find the conferences and pitch events where agents who represent that genre are likely to look for new authors. If you're lucky, they'll have searchable lists of agents too.
pw.org "is the nation's largest nonprofit organization serving creative writers," and features a handy dandy Literary Agents database. None of the subgenres previously described are available in the list of filters, so I choose "commercial fiction" because genre fiction like mystery falls into this category. And I'm in outstanding company. According to Writer's Digest, "Tom Clancy, John Grisham, and Stephen King are all prime examples of commercial fiction authors." No one is going to confuse my knitting detective with Moby Dick.
My search yields about 70 results. Which is a lot less than the 238 agents I found on publishersmarketplace.com just by searching within the mystery genre. But it doesn't matter. I'm starting to see some of the same names again and again, and that's a good thing. It tells me these agents are serious about finding new writers, and they're working hard to make it easy for writers like me to find them.
QueryTracker is a website that helps authors find literary agents. Ding ding ding, jackpot! Without paying to be a premium member, I can find agents who represent my genre (here we go again: this time I latch onto "mystery" in the list), and I can hide agents who are closed to queries at this time. I can even slice and dice some of the data that's consolidated on this site, like where the agent is located, which authors they represent, their preferred format for receiving queries, etc. And it doesn't hurt that I can use this site to keep track of the queries I send (hence its name).
I add this arrow to my quiver, and head to the penultimate website on my list of resources.
This site claims to be "the internet's largest free database of literary agents." I don't know how accurate that claim is, but the price is right! I can select my genre (here we go yet again), and filter my results to just those agents who are actively seeking new clients.
Searching of any kind is rarely an exact science. And remember, I'm cross-referencing results from several sites. In other words, I'm casting my net far and wide— but not too far and not too wide— and hopefully there are no gaping holes in my net that would let my dream agent slip through it.
I tend to think of this site as Twitter's little brother. Which is a good thing because it lets me scan the types projects that participating literary agents are looking for or wish someone would write, without all the overhead of trawling Twitter the mother ship. For example, some agents are looking for Amish cozy mysteries, while at least one agent is being very particular about wanting a cozy mystery "that features beverages." Alrighty then! But click an agent's name, and it takes you to their Twitter handle where you can do more of your research around what they're looking for, what they're tweeting, and what matters to them.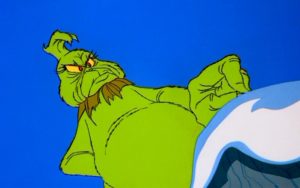 So there you have it. Six resources that form a subset of what's out there. But it's a solid start. I've done my search, and I'm doing my part to make myself attractive to agents. I blog, I post, I tweet— with care. Sometimes I feel like the Grinch on top of Mount Crumpit bemoaning all the noise, noise, noise in the digital world. So I'm trying to do my part to add value, and hopefully create content that people care about. But only your comments will tell me if I'm getting it right.
So thanks, this week, to my readers who have commented on what I've written so far. I thirst for the feedback. And if there are any topics you'd like me to cover in future posts, I hunger for those too. Think good thoughts that my three-legged stool is just around the bend. And check back to see the results of my quest to find representation. In the meantime, please keep the comments coming!