This morning I woke up at the crack of dawn and zipped to the Seattle ferry terminal to avoid delays at the start of this busy Labor Day weekend. Crossing Elliott Bay by ferry is a wonderful experience, especially on a beautiful day like today. But once in a while, you encounter someone who doesn't realize—or just doesn't care— that, like it or not, we're all on this journey together.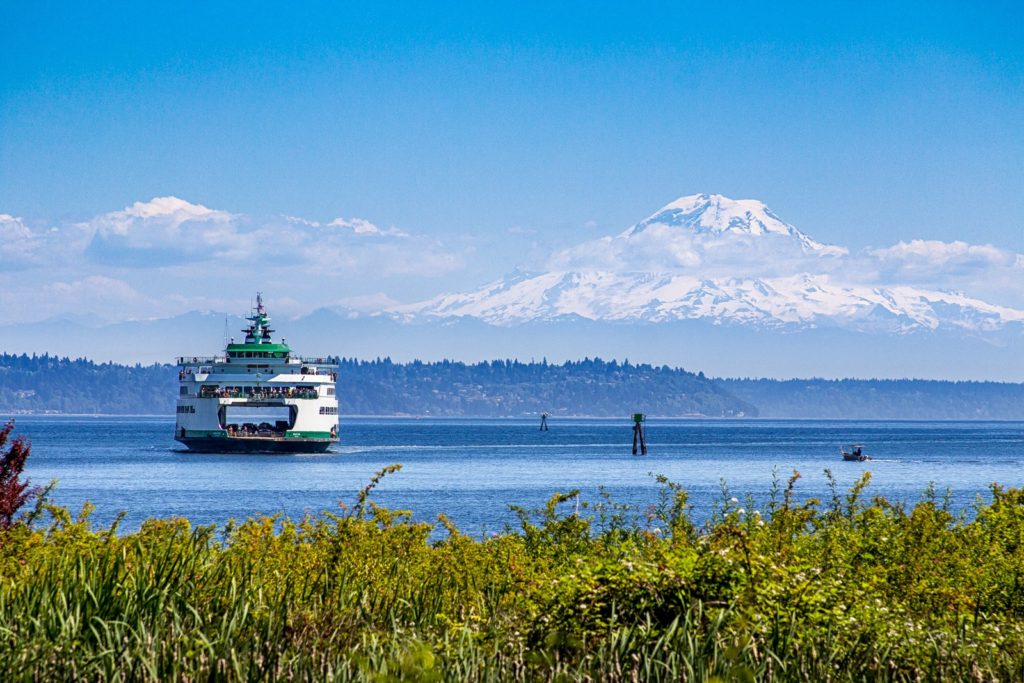 Like this morning, for instance. By the time I arrived, the Seattle holding area was already reaching capacity. Cars were sitting in the first dozen or so vehicle lanes waiting to board the ferry. New arrivals like me were proceeding to empty lanes waiting to fill up. And then the driver of the little red Kia in front of me decided that, rather than proceed to lane 13 or 14, she'd just pull into lane 3 with her tail sticking out so far that none of the cars behind her could pass her. I was dumbstruck. For a nanosecond, I calculated whether I could pass her without scratching her car or mine. Not a chance. So I beeped at her. She rolled down the window and, with a look of innocence that made me want to nominate her for an Oscar, asked, "What?"
Well, she asked so I told her what. "You're cutting the line," I said patiently. No reaction. Then I pointed out that when the ferry worker who monitors the holding area arrived, he'd more than likely ask her to back out and go to the end of the line, which might not fit onto the next ferry. And then an amazing thing happened. Not only did she apologize, back up, and proceed to lane 13 or 14, but so did another car that had cut the line by squeezing its arse into lane 2.
Taking a journey of any kind doesn't mean we have to share the experience with our fellow travelers. You can sit in your car and I can sit in mine, and we never have to interact. But if I do my part and you do yours, then chances are we'll both arrive without a scratch. So what does any of this have to do with writing mystery novels?
Quite simply, it's this: "No man is an island," as John Donne wrote, even if we're riding a ferry to one. We're all "a part of the main." Next week I'll be heading to the Book Passage Mystery Writers Conference, where I hope to find a literary agent who will believe in me and my work, and offer to shepherd my novel to the best possible publishing deal. But I'm not planning to sit in my car with the windows rolled up while he or she does this alone. We'll be in this together. When it comes time to promote and market my novel, I expect to play an active part, even though it's in my nature to let the experts do their bit while I focus on writing the sequel(s).
To improve my luck when opportunity knocks, I've been preparing for this next step in the journey by reading piles of books about marketing your work if you're an author. My favorite book of this type so far is Perennial Seller by Ryan Holiday because he takes an holistic approach to the creative process, positioning your work, marketing it, and building a platform. In it, he writes, "If the first step in the process is coming to terms with the fact that no one is coming to save you—there's no one to take this thing off your hands and champion it the rest of the way home—then the second is realizing that the person who is going to need to step up is you."
I've completed the fun and agonizing work of getting my manuscript to the point where it's ready to be submitted to literary agents. Now I'm gearing up for the fun and agonizing work of getting it "the rest of the way home" which, to me, means securing representation and a publishing deal in order to get my book on store shelves, in public and private libraries, on Amazon and other online retailers, and more generally, in the consciousness of the book-buying public.
But it all starts with an appreciation for the fact that I may have started out on this journey by myself but I'm not continuing it alone. It's something that the lady in the little red Kia might not have considered when she snuck into lane 3, but hopefully she'll remember it on the ferry ride home.
I can't wait to meet my fellow travelers at Book Passage next week. So until then, I'd like to thank Ryan Holiday for his wisdom. But most importantly, I'd like to thank someone who I've waited to thank since I started this blog: my editor, Diane O'Connell of Write to Sell Your Book. I've spent my entire career working with editors, so I know a good one when I see it. And Diane is the best, hands down. I decided to shoot for the stars when I went looking for an editor, and I got my wish. Diane gets me, she gets my work, and she makes it better. Best of all, during our very first conversation when I told her I was looking for a top-notch editor who would be as invested in my success as I am, she made it clear that she wouldn't have it any other way. Who wouldn't want a companion like that along for the ride?